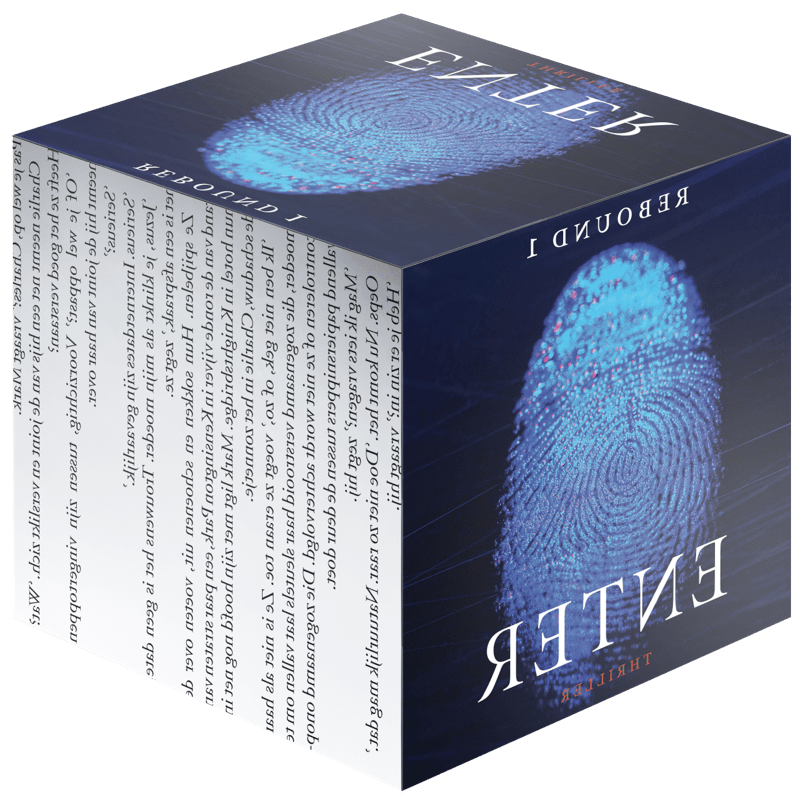 Enter – Rebound 1
Story
A woman running from her past.
Her daughter's greatest wish, is her biggest nightmare.
Years ago, Tyler testified against her husband. Now she and her daughter Charlie live in Amsterdam under a new identity. In accordance with witness protection rules, no one should know about her past – not even her daughter.
When Charlie opens her mother's safe, she discovers her father is still alive and decides to start searching for him. She sets up a meeting with someone who has more information for her, but when she arrives at the agreed place, she is pulled into a van.
At the same time, a brutal attack is committed in Miami. As soon as Tyler learns of her daughter's kidnapping and the attack, she tries to reach her handler.
The response she gets leaves her with even more questions: her case is unknown. Should she doubt that she was ever in the program? And who has her daughter?
Willem Asman's Rebound 1 - Enter, the award winning bestseller, is the first part in the trilogy about the secret organization REBOUND, all parts of which were published within one year.
"Behind every secret there is another secret.
Behind it, there is a lie.
And behind the lie, there is a truth you wish you didn't know."
Charles den Tex on Rebound
Where it begins
Where Rebound Begins
A young woman is on the run. She runs up the hill through a dark forest.
I have no idea who she is, or why she's running, or who's chasing her.
But my goal is clear: see how long I can keep doing this: running without knowing.
At the top of the hill she stops, to get her breathing under control, she pricks her ears. In the dead silence – even nature holds its breath – her smartphone rings.
'Mom?'
Her daughter on the phone.
Aha, she has a daughter (until now, I didn't know).
Running up that hill is where Rebound begins.
Where do you get your ideas
It is not the most frequently asked question during Q&A sessions after lectures and book signings, that honor is reserved for 'Does writing pay the bills?'
The answer to this question is apparently more interesting, but at the same time shorter, because it is: 'No, unless you are extremely lucky.'
To answer the question where they originate, my ideas, we should talk a little longer.
On the roundabout
Rebound starts with a comment from Pieter Swinkels: 'You are on a roundabout, Willem. And you keep taking the same exit.' Pieter is, in almost everything, a 'former' to me: my ex-neighbor, my ex-publisher, my ex-partner in crime. Today he is my dear friend and VP at Kobo. If we succeed in our busy agendas and itineraries, we have lunch together, exchange the latest family news, discuss the Japanese preference for planning, gossip about acquaintances, literature in general and my authorship in particular.
I recognize the image, a roundabout. It is, as Pieter surely knows, an image I used in my 2006 debut, The Casssandra Paradox.
'…The feeling that you are driving home, it is late, you have had a busy day, you are lost in thought. And suddenly you are home. You have no idea how you got here so fast, but here you are, at your doorstep. No idea which turn you took, which car you passed, which traffic light, which dangerous situations you have avoided, whether you had the radio on or not, no idea when you braked or steered or accelerated. All of a sudden you are home. Safe and sound.'
In short, this roundabout comparison is a nice one, clever, familiar. I can see it.
Four in four
But what to do with this image? Roundabout, what do you mean I am on a roundabout? Haven't I been heading straight for my goal, a direct line, for years now? Ever since that very first time at the publishing house, I remember exactly what I said, there in that great hall of De Bezige Bij. It is autumn 2004 and the most respected literary house in the Netherlands wants to publish my debut. It is known that at that moment I have almost signed up with a competitor, I have been invited here to have my ego caressed.
In preparation I – after all, a son of Oracle – have decided that bluff will take me a long way in this dusty and conservative literary world.
And so I point out to tycoon Robbert Ammerlaan a stretch of white wall between All The Greats, the portraits of Hermans, Mulisch, Campert, Claus, Oz, Beckett, Bellow, Borges, Nabokov, you name it.
And so I speak the historical words: 'I see you left some room there for my picture.' And if that's not enough swagger, a minute later, barely in his office, I announce to write him four books in four years. 'Make me an offer I can't refuse.'
The four-book deal did not come. But I did write them.
My debut, The Cassandra Paradox, released in January 2006, about a woman of extraordinary talent, a real-life secret CIA research project and a temple ruin in South America.
In Britannica (2008), my second, a judge in pre-nine-eleven New York becomes entangled in his grandfather's investigation into the murder of Franz-Ferdinand in 1914.
Wonderman's endgame, the classic quest of an antihero in search of the solution to Africa.
And finally, in April 2010, four years and three months after my debut, De Bezige Bij publishes my fourth, Koninginnedag, about the attack on the royal family in Apeldoorn.
So WTF do you mean, stuck on a roundabout? Four in four! Delivered as promised! How much straighter do you want my road to be?
But to be honest, Pieter's advice continues to haunt me.
I am intrigued, a little offended too, confused.
In one word? Challenged.
And so we are back to the second most frequently asked question
The question where my ideas come from. The most poetic and pretentious answer I ever gave is undoubtedly: My ideas come from the twilight zone between the conscious and the subconscious, the light and the dark, the high and the low.
But the most honest answer is: I don't know. Writing is 'the art of applying the ass to the seat,' said Dorothy Parker. But when seated I do not 'invent' the story. Inventing, making up, implies an act, the use of force, and it doesn't work that way, at least not for me. On my best days, I sometimes think, my characters go about their business and all I do is listen to them and make sure my fingers on the keyboard keep up with the their pace.
Then one good day ...
Then one good day, a few months after Pieter's roundabout image, I find myself standing in front of my bookcase without an ulterior motive. My eye falls on one of the worst books I ever read: Sail by James Patterson.
Why, I wonder, did I actually think it was so terrible at the time?
pick it up, read it again. It is cliffhanger galore. Patterson is proud of it too. Fuck credibility, character development or plot logic, is his view. As long as you get the reader to turn the next page, all is allowed. Once more, just like I was after my first reading, I am shocked by this brutality. Wikipedia tells me Patterson has the most number 1 New York Times bestsellers of all time, sixty-seven in total, a Guinness World Record.
And as I put the book back where it came from, a little voice whispers. This is not just an exit, this is an exit I vowed never to take.
The second thunderbolt is Jeffrey Deaver's The bodies left behind. Am I impressed with this book? Impressed doesn't begin to describe it. With the exception of a few chapters, the whole book is one long chase through a dense forest. Extraordinarily ingenious, extraordinarily exciting. Could I ever do that? asks the little voice.
And so I begin, with Patterson and Deaver in mind, Season 1 Episode 1 of what will eventually become the Rebound Trilogy: with a young woman on the run, chased through a forest.
I still have no idea who she is, what she runs from or who's chasing her.
What I do know is that I want to find out where this exit leads me. In other words: how long can I make her run from cliffhanger to cliffhanger.
WA, February 2021
Press
'Willem Asman has never been averse to international intrigue, but in Enter the author pulls out all the stops. Enter is the successful first part of what will become the Rebound trilogy. Asman tells the wildly exciting story with speed. The reader is continuously misled, the plot twists are abundant. The author has already been nominated for the Gouden Strop once, it comes within Asman's reach for this extremely exciting story.' – de Volkskrant, Rolf Bos
'A palace of mirrors of intrigues, lies, half and whole truths, in which nothing is what it seems. Asman weaves a web of plot lines and writes at a pace that makes you gasp for breath, but in a style and setup that makes it nearly impossible to put the book down. He also does this with a touch of refined humor. The chapters end with surprising cliff hangers, keeping the suspense alive. The plot twists keep you on your toes. Where necessary, Asman slows down to investigate matters. He knows how to sketch balanced characters and how to evoke atmospheres with a few striking sentences. The loneliness of the main character is downright oppressive. Her neurotic distrust is deeply palpable and her emotion grabs you by the throat. With Enter - Rebound 1 Willem Asman had written a thriller of international ambition that makes you hungry for more.' – Jury report BookSpot Gouden Strop
'A chillingly exciting book!' – Arthur Japin
'GREAT! You could say Willem Asman, the more than justified winner of the Gouden Strop, un-Dutch. But it is completely the Asman we know (from Queen's Day, Wonderman's endgame, Britannica and his surprising debut The Cassandra Paradox in 2006). That's the first thing that comes to mind after reading Enter. Asman again makes the grand gesture: Enter is the first part of a trilogy about REBOUND that has been published in one year. Also great in the structure of the story. Asman devised this web very cleverly and described it with extreme credibility. At a pace that makes you gasp for breath, but in a style and setup that make it almost impossible to put down the book. He easily manages to maintain the suspense, the cliffhangers are often surprising and the plot twists mislead the reader time and time again. Enter is the very successful first part of an ambitious trilogy, and if Asman manages to maintain this level in the following parts, that would have to be called un-Dutch.' – thrillerboek.nl, Jos van Cann
"Extremely exciting, lively characters, lots of action. Willem Asman does not shy away from a complex story that extends over more countries.' – Trouw
'Asman weaves 'a worldwide web of intrigues in which action, excitement and sensation do not stand in the way of the human dimension.' – Het Parool, Algemeen Dagblad Magazine
'A hard-boiled action thriller, an excellent plot. Enter and Error are superbly written, thrilling books full of unexpected twists and action. A multitude of characters and intrigues ensure that the books remain fascinating until the very last page.' – Nederlands Dagblad
'What a story, folks! Very exciting, full of surprising plot twists. The characters are lifelike and partly because of this you as a reader get directly involved with the protagonist. Enter is the first part of a trilogy. That's good news because this book is good. No, not un-Dutch-good, an expression that no longer exists, just very, very good!' – Remco Houtepen, bookseller of the year, Radio 5
'With the Rebound series, Asman once again proves that he belongs to the absolute top of Dutch-language thriller writers.' – Elvin Post
'With Rebound, Asman has done the Dutch crime literature and its readers a tremendous service.' – Jos van Cann
'Enter has many elements that make it a good thriller: a secret organization, a lot of uncertainty, truth and lies that alternate quickly, a lot of distrust, a lot of suspense and fascinating characters and finally the required plot surprises. The story comes to you from changing perspectives, which makes it credible. Enter ends with a wonderful cliffhanger that makes the reader eagerly await the second part.' – Boekenblogderwijs.nl
'Asman turns it into a story you want to read in one go. His great strength is his ability to sketch lifelike characters. Each time, Asman conjures unexpected plot twists from his hat. Who to trust or not?' – Gooi- en Eemlander, Haarlems Dagblad, Leidsch Dagblad, Sonja de Jong
'Enter is a thriller with international ambition. We are eagerly awaiting parts II and III.' – Vrij Nederland
'Very nice thriller with an international touch. We are glad parts 2 and 3 will come soon.' – Broese booksellers, Utrecht
'Enter is a wonderful thriller. Asman's skilled brain fills the journey with exciting events, special twists and pleasant pieces of the puzzle. Luckily Error wil already follow next November.' – hebban.nl, Remko Meddeler
'With his previous titles, Asman already showed that he is one of the Dutch authors who can easily cope with international competition and he is showing it again with Enter. Asman uses a strict writing style, with no unnecessary digressions. Enter has been plotted exceptionally careful. Asman ensures that it is correct in every detail. Not everything is clarified, but the answers to the remaining loose ends will no doubt be addressed in parts two and three.' – hebban.nl
'What a wonderful thriller with international ambition!' – Kramer & van Doorn Bookstore, Zeist
'With De Cassandra Paradox and Wonderman's endgame, among others, Willem Asman proved to have an extremely great talent for writing various types of thrillers. Although Enter is filled with action, it is clearly an introduction, a prelude to the sequels, where the intrigues can really erupt. But a very pleasant introduction. Asman writes fascinatingly about the witness protection program and the identity change that comes with it. Asman takes the time to explain the REBOUND organization and does so in a concise, powerful style. The narrative style, the solid plot structure and the secret world of spies are at times reminiscent of the books by Charles den Tex, who (quite rightly) crossed borders with The power of Mr. Miller and Cell. Willem Asman could also achieve this, because the REBOUND series tends to be an international hit. Enter is a promising start, it makes your mouth water for more.' – thrillzone.nl
'The un-Dutch setting makes this book impressive. Suspension and intrigue run rampant in Enter. Willem Asman has an innovative writing style, he writes the story in an un-Dutch manner. You cannot imagine while reading that this is a Dutch writer. The visual description of the environment, the atmosphere and the storyline of the Rebound system gives it an American touch. Impressively strong writing, everything fits, the characters are clear cut and convincing. Slowly but surely Asman manages to draw you inside the plot, you will not just trust everyone. Not all riddles are explained, hopefully we will learn more about them in Error. Intrigues, strongly portrayed characters and the un-Dutch setting make this book highly recommendable. You will not be disappointed. It is not without reason that Willem Asman has managed to secure a place on the shortlist for the Gouden Strop. Well-deserved in my opinion. ' bol.com Lees Magazine
'An intelligent thriller that makes you think about witness protection programs. Are all liquidations in the underworld real? Or did criminals (pop stars, millionaires, etc.) start a new life? Enter is recommended for fans of, for example, Charles den Tex.' – Jaspers Badhoevedorp bookstore
'The Rebound series is perhaps the best that has appeared in the Dutch thriller genre during the last decade.' – Daan van 't Westeinde
'Enter is the best Dutch-language thriller of the year. After previous nominations, Willem Asman finally wins the prize for best thriller.' – de Volkskrant, Iñaki Oñorbe Genovesi
'Many surprises in the second part of Rebound trilogy. From the first sentence, Willem Asman sets the pace with part two of his 'Rebound' trilogy. It is great how Asman is able to clearly tie the countless storylines together. And each time he comes up with one more surprise.' – Gooi- en Eemlander, Haarlems Dagblad, Leidsch Dagblad, Sonja de Jong
'After the exciting Enter, I immediately started in Error, part 2. And again I Was immediately captivated by the story. Can't wait for part 3!' - Veenendaal bookstore, Amersfoort, Mabel van Zijl
'Error is even better than Enter, especially because it goes deeper into what the organization Rebound actually is. Tyler, the newest ring bearer, and her daughter Charlie are featured again, and we hear more about how Gar joined the organization. The story about Alain Toussaint, a former hitman, is well woven into the book. All these storylines are intertwined and yet they belong together. With Error, Willem Asman has delivered an exciting book and the book is well composed. The chapters are not too long and well divided among the main characters. Also in Rebound 2 there is a preview from Rebound 3 and after reading this, I can only say that I am very curious about Exit!' – thrillersandmore.nl
'Asman writes at a killer pace, and nothing is what it seems. One drawback: you must have prior knowledge of part 1 to understand everything. And part 3 will be necessary to get all the jigsaw pieces in their right place.' – Vrij Nederland
'The fact that the Rebound trilogy is unusually good was once again emphasized by the Gouden Strop award for part 1: Enter. With part 3, Willem Asman not only confirms this high quality, but even surpasses it. Exit rumbles on like a rollercoaster, full of unexpected loops and breathtaking twists and turns. It surprises to the last pages. In a superior way, Asman knows how to drag his readers along. Asman brings all the storylines together in a completely convincing way. This is the higher echelon of thriller writing.' – Gooi- en Eemlander, Leidsch Dagblad, IJmuider Courant, Sonja de Jong
'Asman finishes the trilogy entirely in style and with an appropriate ending. A flashy style, the necessary plot twists and speed. The disadvantage is that to appreciate Exit, you better read the two previous parts first. Other than that: bravo!' – Vrij Nederland, Jos van Cann
'Rebound is unique in its ambition. An original, exciting series, three brand new, incomparable thrillers of international level, to be released in one year. The third and final part will be published next month and I can tell you: Asman succeeded, he fully lives up to expectations. A phenomenal production of phenomenal quality. In Rebound 3: Exit , everything that has been built up in parts 1 and 2 comes together in a very exciting apotheosis.' – Harold de Croon, editor Ambo | Anthos
'Finally the denouement of this great series. The Rebound trilogy is a must for thriller readers!' – Veenendaal bookshop, Amersfoort, Mabel van Zijl, May 2018:
'Exit is the last part of the five-star trilogy about the unbelievably credible REBOUND.' – Remko Meddeler