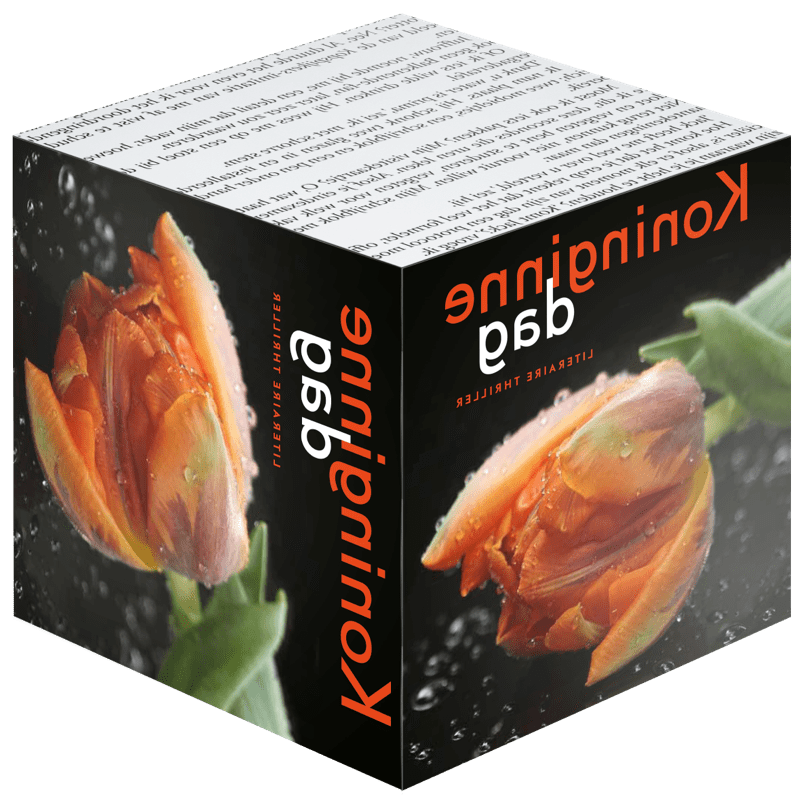 Queen's Day
Story
A national celebration ends in a national tragedy when a black Suzuki Swift punches through the crowd in Apeldoorn, the Netherlands. Dutch Prime Minister Jan Peter Balkenende is in Warsaw. Head-over-heels he flies back to the Netherlands in the government plane. In his entourage is a young woman, a communications consultant, hired to improve the PM's image. Nobody on board knows what her relationship is with the driver of the Suzuki.
What is the real reason for her presence on the plane?
146 minutes until landing.
Time is running out.
Where it begins
Queen's Day 2009, ten to twelve
Do you remember where you were, April 20th 2009, at ten to twelve?
What you thought, what you did?
For me, it was the phone ringing, and hearing my father's voice in alarm.
Book IV - The Moment
On the display I see who it is.
'Hi Dad,' I answer. What a beautiful Queen's Day, I think, looking at the sky through the windows: clear blue, cloudless. We are getting ready to pick him up to go into the city together. My father is looking forward to it, this year in particular. Queen's Day, you must know, has always been a rather peculiar day in my family, and especially so for my father - it is his birthday. Traditionally we sang to him by telephone early this morning – Long shall he live.
'Are you watching?' he asks. 'Television?'
For as long as I can remember, the days leading up to Queen's Day in my family were filled with preparations for our relatives and friends that would come and congratulate him. Queen's Day being a national day off, there was no need to postpone until the weekend. The day itself consisted of waiting for visitors to appear or not. When I was young, we followed the Queen's Day festivities on television, the Royal Family visiting some province, eating regional cheese or cakes, dancing and singing regional songs; grown-ups playing children's games.
'No,' I say, picking up the remote. 'How so?'
But this year, we have agreed, we will do things differently. He has called off anyone who might show up at the door to congratulate him. We have planned to drive into the city with tramline 25 from the head of the Rijnstraat, and then let ourselves be surprised by the parties. Maybe we will leave the tram somewhere, if it looks pleasant enough – maybe not.

'An attack on the Queen. In Apeldoorn. Live on television.'
Book IV - The live images
I still remember the live images exactly. They are immediate, physical. It can be compared only to what I experienced on nine-eleven: I didn't want to look, I didn't want to believe, but had to. There was no choice, I couldn't do anything else, I had to see and hear (and witness) everything.
Endlessly repeated: the black Suzuki against the statue, a policeman on his bicycle, the photographer's steps, someone performing CPR at the intersection, the hands of Máxima and Willem-Alexander. And a single shoe somewhere, always just that single shoe marking the scene of the attack, the shoe I remember from  Wonderman's endgame.

'I feel like crying,' my father says.
'Yes,' I say, 'so do I.'
Going into city is out of the question.
What we did, while waiting for the press conference
Etched in all of our memories, collectively, indelibly. The attack took place at the intersection in Apeldoorn where all film crews and news photographers are gathered, as the Queen's Day parade will be held here, one last time, celebrating Juliana's 100th birthday.

Awaiting for the press conference, commentators start speculating. Although they insist that it is of course much too early to comment and speculate. In the absence of facts, social media are quoted live on national television, although anchors insist that these messages of course are still unconfirmed. We switch to the streets of Apeldoorn, where seasoned reporters on the scene fill the time by asking the questions we all have, questions no one can answer. Why did this happen? Will Queen's Day ever be the same again? What can we say about security?
I see people standing in line, calmly waiting for their turn, to tell the camera crew where they were (near the intersection), what they thought (they could not believe it at first) and what they were going to do next do (go home).
What we thought
It is now out in the open, the a-word. Just when we thought it couldn't get any worse. I am thinking the unthinkable: what if the perpetrator is an immigrant.  It shouldn't matter, but of course it does.
'Let's hope not, right, Dad?'
When a little later the brand new mayor of Rotterdam Ahmed Aboutaleb calls the NOS and RTL television stations, and announces that all festivities in Rotterdam have been canceled (Ahmed Aboutaleb and nobody else, he of all, the first immigrant mayor of the Netherlands, the first dignitary to speak since the attack), I'm sure.

On television we continue to insist we should not speculate and keep our calm.
But in my imagination I see race riots, burning banlieues and Wilders winning fifty seats next election, the largest party in the country.
146 minutes later
At 4 PM on Queen's Day 2009, 146 minutes after the attack, Prime Minister Jan-Peter Balkenende appears at Zestienhoven airport. I don't really hear what he's saying. As often happens to me when he is speaking, my mind wanders. Tony Blair comes to mind, and what he said the day after Diana's death: The people's princess. And Obama's incantation Yes we can, Kennedy's Ich bin ein Berliner and King's I have a dream are there as well.
What am I doing? Kidding myself, we will never get that from him.
What would I give to hear our Prime Minister say, for once – just this once – something that touches me, comforts me, inspires me? Especially now, after an afternoon filled with impotent questions and endless speculations? Something that makes us all think about how we got here (not where we hoped we would be)?
Does my Book IV start there, in front of the TV, in those 146 minutes, my Dad's alarmed voice in my ears?  Yes and no.
How it continued with Wonderman
Just over a month after the attack on Queen's Day, on June 2nd 2009, I meet Jan Pronk, the man who, according to everyone, served as a model for my fictional character Jaap Vos in Wonderman's endgame.

We shake hands in the hallway of the Melkweg theatre in Amsterdam. 'I contemplated calling you, Mr. Pronk, when I started writing this book.'
'Good thing, Mr. Asman,' he replies immediately, 'that you didn't.'
Later that evening the moderator asks: 'How on earth did you come up with Jan Pronk as inspiration for a novel?' A question I heard before.
'I come from a red next,' I answer. 'I could never have written this book about a CDA-politician.' It is my routine response.  But this time, sitting next to Jan Pronk (who is unexpectedly generous about my book and unexpectedly modest when it comes to his own role), my answer on autopilot has ceased to convince me. Let's just say I hate it when I hear myself say 'never'.
That image, that moment, those 146 minutes of impotence and disbelief, on the border of hope (that it will all end with a fizzle) and anger (towards Balkenende, the ever uninspiring one), become the engine of Queen's Day. My 'never a book about a CDA-politician' becomes the fuel.
Imagination or Reality?
Can I make something of it? Something more than being shocked, stupefied, bewildered and speechless? Something more than lighting a candle and leaving teddy bears at the scene of the crime? Something more than to express my condolences on a website, more that our PM did at Zestienhoven airport at 2.16 PM on that cursed day?
Who actually advised him to react like that? Where did he come from? Did he have other things on his mind? What did he do when he heard it? What did he think, how did he feel?  And how on earth do I find out without asking him directly (Jan Pronk's advice)?

And what would happen if I zoomed in on the act and the culprit? To see what he can teach us about ourselves? It did happen, not somewhere far far away, not long long ago, but in the Netherlands today, in my street.
Jed Bartlett
Wondering how on earth to turn this into a book, the ingredients of which are 1. known events and 2. our PM as the most unlikely hero, I think of Jed Bartlet, fictional US President from The West Wing, the most impressive television series of all time.
In addition to incredibly clever screenwriting and a world class cast, the most brilliant novelty of the show was that the episodes end where the viewing normally starts, namely at the start of the President's speech.

The West Wing inverted this television reality: we see him behind the scenes, the episodes sometimes literally end when he steps into the bright lights, in front of the photographers, cameras and microphones.
Tone and timing of a West Wing episode? Could I try that? Make a Bartlet out of Balkenende? Not the Balkenende we see, but the Balkenende we would like to see?
And, while in the process of formulating my ambitions regarding my Book IV, can I make an I-first person perspective book? After the Grand gestures, the hot spots of the world, Latin America, the Balkans and Africa, can I do a book on a square millimeter in the polder of The Hague?  Can I rewrite in three weeks, where I previously needed as many months?  Can I do it in not 471 (Cassandra), not 397 (Britannica), not 358 (Wonderman) but in 224 pages?
And, last but not least, can I do it without shocks and exaggerations– because a book about Queen's Day 2009 needs everything, but not that.
I like it. Things I never did before.
New to me, just like reaching De Telegraaf and Het Parool pages, the radio, SBS6 Shownieuws and RTL Boulevard, two months prior to the book's publication. Like people airing their unvarnished opinion about me and my work on websites long before a syllable has been read.  Like it was new to me, not so much out of national interest, but purely out of selfish motives, that the Balkenende IV cabinet would remain in office for a while.
Book IV – mission accomplished?
Did I achieve what I set out to do? Phew. During the last few months, I have been too busy and focused, to add one more sensible syllable about this book. But for now, let's end with my father, as he started this whole enterprise (my father, not a Balkenende fan): 'Yikes,' he said, after reading my first version of the manuscript, in answer to my question if he believed my PM. 'I even liked him. Are you happy now?'
WA, March 2010
How it continues
Hot cakes, posters, Prem
No ceremony this time. We have all worked so hard to get this book done, we forgot to take the time to organize a party. All of a sudden I have the first copy of the book in my hands. This is the hall of De Bezige Bij, someone puts a hand in a box, and there it is. 'They will sell like hot cakes,' predicts the head of marketing. 
The cover – flag at half-mast against a clear blue sky, once more a Jan de Boer masterpiece – takes my breath away.  I sigh, thinking of the Queen's sigh.
Huge posters are all over town. They are spotted at Waterlooplein, Bloemgracht, Europaboulevard, on the fences of the Noord-Zuid line in front of Central Station, near the Panama restaurant, at the Westerpark. If you wouldn't know better, cycling along in the sun, this week before Queens Day 2010, the posters are a perfect warm-up for the upcoming party.
On April 29 I am guest at the live lunch program on BNR news radio station. We speak about the credibility of so-called celebrities, voicing so-called opinions on television in sound bites. One of the loudest of them, Prem Radhakishun, has the 2 PM show on this network, from behind the glass he hears me, smiles broadly, applauds me, thumbs up. Still full of adrenaline, I listen to the recorded broadcast at home, and I hear myself rattling on with the same sound bites I condemned. The difference between all those other celebrities and Prem, I say, 'is that I believe Prem'.
I am interviewed by a television crew of Editie NL, Asman's first time on national television.  While the camera and lights are being installed, anchor Wilson Boldewijn asks: 'Would you mind if I quickly leaf through the book? I haven't read it.' But hey, anyone who pays attention to such detail is a grumpy moaner, there are hot cakes to be sold. 'Do you understand that many people think this book should not have been written?'  After a pause, my answer: 'In my mind it was necessary.'
Also a  first  is the full-page advertisement on the inside of the cover of Vrij Nederland. On April 21, a huge pile is spotted in the Bijenkorf department store. Another notable one appears in a bookshop in Apeldoorn.
Queen's Day, I will later learn, is used as teaching material for the Creative Writing curriculum at Amsterdam University – an 'perfect example' of how to bend time in novels.
The reactions after reading the book
Privately I have never received so many spontaneous enthusiasm to a book. 
RV: 'A book full of humanity.'
NA: 'Beautiful, overwhelming, a true gem.' 
SR: 'Another one of yours that make me think. It grabs me, confuses me. I just saw you on TV. Take some rest.' 
A text message from youngest daughter: 'You did it, I read it in one go!' 
LB: 'Your best so far, funny, full of speed, not an unnecessary word. The first I-book I have finished since Damocles.' 
RvD: 'Credible, full of depth, the references to current affairs are not only interesting and convincing, but also astute. How the F do you know all this?' 
SE: 'Thanks a lot now I will never be able to mute Balkenende again.' 
JM: 'Your most accessible book yet. Fantastic dialogues. Powerfull.' RvD2: 'Very well written, stylistically and on micro level even better than Wonderman. I was fascinated from start to finish, perhaps not so much by the plot but by the style and the compelling force of the developments. I agree with the critics that "it's not suspenseful", as suspense you would expect from a thriller. The fact that it was a page-turner in my view has nothing to do with suspense, but with interest in what will happen to her, how will she will gets by (will she?), and at what price. That price is a high one, in the end. '
Suddenly EK on the phone. First time he calls me in my life. I fear bad news. He is in his car, at the intersection in Apeldoorn. A trip with the family. 'I had to call you and tell you where I am.'
I also receive a remarkable number of wonderful responses from colleagues. 
RJ: 'Your Balkenende is a stroke of genius, the Hague is described perfectly. Did you get any response yet from Jack?' 
DH: 'Man, can you write!'
PdZ: 'Everyone will have an opinion on its ending, but of course I have also been thinking about it. I couldn't figure it out, you did.'
Months later we get a private tour of Paleis Het Loo. When the elderly guide, born and raised in Apeldoorn, tells me that he has read it, I freeze. He had his doubts, he must admit. 'But it is beautiful,' he tells me. 'Unexpectedly so. No vulture-ism, on the contrary. Balkenende should thank you. And then, to top it off, you give him that wonderful dream of your daughter.'
The press
Compared to Wonderman's endgame , where the deluge of attention just didn't seem to wane, Queen's Day is dead in the water.
The sparse reviews are sometimes benevolent, usually not. They liked my Balkenende, my Berlusconi. But that ending? And how to read this book? As a thriller, as a novel, as disaster tourism? Or as a 'smoothly told illustration for a message from the government in which the central question is: how to deal with nice people?' (NRC) Or as 'perhaps the worst understood novel of 2010' (Gert-Jan de Vries on Crimezone).
Summer 2010

The bookstores grumble. What were previously hot cakes have now started to mold.  In June we decide that there is no other choice than to retrieve all delivered copies from the market.
Was it too soon?
Where did we go wrong? How could we have miscalculated this much? Maybe this book wasn't as necessary as we thought?
The first attempt at a possible explanation comes from Pieter Swinkels: 'Perhaps it was too soon. Maybe the Netherlands wasn't yet ready to commemorate.'
Years later, a few weeks prior to the first lustrum of the attack, I meet Paul Rem, the übercharming curator of Paleis Het Loo. He agrees with Pieter. 'The wound is still fresh, Willem.'
So too soon, yes.
Long before Hugo Borst's pamphlet against the harrowing consequences of healthcare privatization.
Long before we realized we could have seen Brexit, the NO to the Ukraine referendum and the Trump presidency coming.
Long before the NPO started looking for 'the voice of the angry white man' that I brought into  my street, my house, in Queen's Day.
But too soon is not the whole answer, as far as I'm concerned.
The reactions prior to reading the book
On February 22, 2010, namely, almost ten months after the attack, two months before  Queen's Day will be published, the ANP issued a press release. Its headline: 'Willem Asman writes thriller about Queen's Day drama.' The first sentence: 'Crime author Willem Asman is writing a thriller about the drama on April 30 in Apeldoorn last year.'
That same day social media exploded. 'Disgust' about 'this vulture'. 'Bewilderment' about 'this sensationalist attempt at making money' from 'the misery of victims'.
Two months before it was published, this was of course not a reaction to my book at all, but to the reputation of my genre (I am actually the chairman of its club, the GNM).
Similarly the Telegraaf wrote: 'Apeldoorn 2009 is of course the perfect material for conspiracy thinkers and thriller writers – or a combination of both. Unfortunately, there is no conspiracy or other mystery in Queen's Day.' Similarly Wim Brands, who says (in a panel celebrating René Appel's 65th birthday) that the thriller genre needs experimentation to become of age. Nobody takes the genre seriously. More precisely put: nobody takes the Dutch writers of the genre seriously.
A failure?
Did it come to soon? Yes. Who knows, we may see it again in 2034 or 3009, with footnotes introducing Beatrix.
Was it misunderstood? Definitely. Ironic, after all, and appropriately, that a book about the loudest voices gets the loudest voices. The press release set the tone.  The genre's image did the rest.

So did Queen's Day fail? The disappointment was real, the impact of the black Suzuki reverberated in me for quite some time. In a way this failure, which neither of us saw coming, marked the beginning of the end for me at my beloved publishing house. And yes, when we look at the numbers, Queen's Day has failed biblically.
Or not?
But did it fail, really? Numbers aren't everything. Goals must be smart, you undoubtedly know the list: specific, measurable, acceptable, realistic, time-bound. The deadliest for people like me, the true believers in makability, is realism.
Never make great reviews your goal unless you intend to write them all yourself.
Never make 100,000 copies your goal unless you intend to buy them all yourself.
When I look back on my smart goals for my Book IV I cannot be dissatisfied. I wanted to get as close as I could to an episode of The West Wing. I wanted to see if I could transform Balkenende into a Bartlet, if I could describe not the Balkenende we knew, but the Balkenende we would like to know. I wanted an I-perspective book. I wanted to be credible, not just in countries far far away, the hotspots of the world, but on the square millimeter of the polder in The Hague. I wanted to see if I could do it within a year.
And most of all I deliberately did not want shock and awe and no conspiracy involving the Royal Family. Contrary to everyone's expectations.
I deliberately chose an angry white man in my town, in my street, in my house. Not an immigrant. Not a lone wolf, not a vengeful psychopath or religious madman, because those monsters are the way we like our perpetrators best – not just in thrillers, but especially in real life: the boogieman we need in order to sleep peacefully.  And I deliberately wanted an ending with a fizzle out.
Because of these choices, mine and no one else's, thriller lovers found too little thrill. And sensationalists found too little sensation.
(WA, June 2017)
Post Scriptum: In 2019, Queen's Day is re-released as e-book by Gloude Publishing, including audio edition by Kobo Originals.
Press
'How politics and current events in the Netherlands can suddenly be exciting. Asman does something that rarely happens in the Netherlands: he writes on the skin of the times and he does it exemplary. In the reviews, this subtle book has been misunderstood and underestimated, because of course it's not about Karst T. nor is it about the Queen. It's exciting because it's about us, our society and the way we interact with one another. Queen's Day is by far the most misunderstood and underestimated book of the year.' – Crimezone, Gert Jan de Vries
'How to understand Queen's Day? As a thriller? As a what-if history comparable to Tomas Ross? Or as a form of disaster tourism? Queen's Day is none of the above – the whole thing ends consciously and sympathetically enough with a deliberate fizzle, an anti-climax. The book is a sermon on the deterioration of society and a plea for more Balkenende. A smoothly told illustration for a government campaign in which the central question is: how do we deal with nice people?' – NRC
'Queen's Day is an intriguing, fluently written novel. The poignant conversations between the woman and the PM are absolute highlights. With a keen eye for current events, Asman not only brings up the financial crisis and the danger of Wilders, but also mentions the 'there is something'-ism of Ronald Plasterk. He snorts at Jan Mulder who first advertises for ING and then fillet bankers at Matthijs van Nieuwkerk's table.' – De Spanningsblog
'Critics can rest assured: the book does not exploit the suffering of the victims. The descriptions of the three encounters between the PM and the main character are the most exciting parts in the book. The fictional PM shows himself to be an inquisitive interlocutor, without slavishly following her directions. Asman provides many good reflections on the Netherlands today, but especially the conversation about Wilders and his ideas lingers. Asman certainly knows how to write.' – Radio Nederland Wereldomroep
'In weeks before April 30, thriller writer Tomas Ross was given plenty of room to spout his conspiracy theories about last year's attack. Kind of crazy, because he hasn't even written a book on that subject. It is better to call Willem Asman, author of the thrilling book Queen's Day. He gives an extremely fascinating twist to the events. That is how it could have gone. And the perpetrator could have had such motives.' – Aktueel Man
'You could argue whether it is decent, to publish a thriller, barely a year after the drama of Queen's Day 2009, in which Karst T. tried to drive his car into the royal family, killing eight and injuring many. The suffering that was caused is still fresh, both in the family of the perpetrator and that of the victims. Should you score with that? A question everyone should answer for themselves. But fact is that Asman has turned it into a fascinating and tightly composed book.' – Noordhollands Dagblad, Sonja de Jong
'Apeldoorn 2009 is of course the perfect material for conspiracy theorists and thriller writers – or a combination of both. Unfortunately, there is no conspiracy or other mystery in Queen's Day.' – De Telegraaf
'Anyone who, a hundred years from now, is interested in understanding the Netherlands in 2009 AD, should dig up this book and read it.' – Jürgen Joosten
'It didn't actually turn out to be a real thriller.' – Vrij Nederland
'A no-thriller about Queen's Day 2009.' – Twentsche Courant Tubantia
'The events in Wageningen on Queen's Day, 2009, are very much on the mind of every Dutch citizen.' Crimezone, Cees van Rhienen